About Julie
Julie Wylie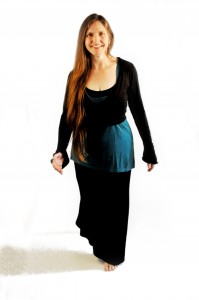 is an earth spirit who guides with wit, love and precision. Directed to a Nia class by a grief counselor, Julie found immense stress relief using this "movement as medicine" discipline. For an introvert, low on self confidence, teaching her first Nia class was a miracle feat of enormous proportion, requiring both courage and determination. Recently asked: 'What gift has Nia given you?' Julie confidently replied: "Nia has given me my voice." Through the wisdom of her therapeutic practice, spiritual seekers find Julie's transparent group facilitation style a safe environment for rewarding journeys of transformation. Julie eagerly shares the discipline of Nia's holistic workout and lifestyle practice that others may reap the benefits of their own tenacity and curiosity.
Find classes, special events, workshops with Julie at: www.NiaNow.com/Julie-Wylie
A dynamic, inspiring & intuitive member of Nia's Training Faculty with over 30 years of movement experience and a 1st Degree Black Belt certification from the Nia Technique, Julie brings deep enthusiasm and intimacy to her classes. Creating a comfortable, safe space for individuals to find physical, mental and emotional health and healing through movement in her special events and experiential workshops are not to be missed!
more about Julie's personal story: Inspiring Self-Healing – Her Story
Credentials – EDUCATION AND CERTIFICATIONS
What's The Fuzz? with Gil Hedley, Ph.D. – Fascia Educational Lecture Nov 2107
Seton Cove Educator Oct-Dec 2017
Tai Chi for Balance Instructor/Leader's Course January 2017
Nia FreeDance Teacher Training June 2016
Certified Stress Busters for Caregivers Master Trainer July 2016
Certified Stress Busters for Caregivers Facilitator Jan 2016
Certified A Matter of Balance Master Trainer Feb 2015
Embodying the Central Nervous System – MindBody Centering w/Bonnie Bainbridge Cohen Dec 2014
Exploring the Depth of Tai Chi w/Dr. Paul Lam Oct 2014
1st Degree Black Belt Feb 2014
Ageless Grace Educator Course Audit Feb 2014
Certified A Matter of Balance Coach Sept 2013
Tai Chi for Arthritis Instructor/Leader's Course Aug 2013
Toastmasters – Competent Leader Award July 2013
Nia ~ The Body's Way Training Jan 2013
Nia Red Belt ~ Wisdom QUEST Jan 2013
Audited MOVE I.T. Teacher Training July 2012
Toastmasters – Competent Communicator Award June 2012
Ageless Grace Educator Certification March 2012
Certified Nia 52 Moves Teacher Training Feb 2012
Audited Nia White Belt Jan 2012
Nia for Kids Workshop August 2011
Nia White Belt Trainer Practicum June 2011
Nia Choreography FAB April 2011
Audited Nia Green Belt March 2011
Audited Nia White Belt March 2011
Next Generation Nia Trainer Summit Jan 2011
Audited Nia Black Belt Dec 2010
Stepped Into Next Generation Nia Trainer Training Sept 2010
Nia ~ Courting Your Destiny Aug 2010
Audited Nia Green Belt March 2010
Audited Nia White Belt Jan 2010
Attended Awakening the New Feminine Spirit Fall 2009
Certified Nia Black Belt July 2009
Certified Nia 5 Stages Teacher June 2009
Audited Nia Blue Belt Dec 2008
Nia Choreography FAB Oct 2008
Certified Nia Green Belt Oct 2008
Certified Nia Brown Belt Oct 2007
Certified Nia Blue Belt June 2006
Certified Nia White Belt March 2005
CPR/AEF Certified
University of New Mexico 1980-1984 Attended on an academic honors scholarship studying business, accounting and dance.
WORK EXPERIENCE – COMMUNITY SERVICE – VOLUNTEER ACTIVITIES
2016-present Stress Busters for Caregivers Coach & Master Trainer
2013-present A Matter of Balance Coach & Master Trainer
2013-present Tai Chi for Arthritis Leader – Sun Style Forms arranged by Dr. Paul Lam
2011-present ToastMasters International Member: June 2012 CC, July 2013 CL
2009-present Volunteer, Truth Be Told Course Facilitator: Talk To Me Speaking, Talk to Me Movement, Discovery, Let's Get Real curriculum facilitator – Lockhart, TX; Discovery curriculum facilitator, Toastmaster speech evaluator – Bryan Federal Prison Camp; God In Human Form performer – Bryan, Hilltop & Lockhart; Talk To Me Speaking facilitator coach Spring 2016 – Lane Murray Unit Gatesville, TX; Paying It Forward curriculum co-creation & facilitation w/author Lindsey Lane Spring 2017 – Lane Murray Unit Gatesville, TX
July 2005-present Teacher & Special Event Facilitator of  Nia Technique – Austin, TX
***********************
2017-Session Presenter UCoH Women's Retreat: Gifts of Connection ~ Nia Mindful Movement presentation
2017-Session Presenter at Isadora Duncan International Symposium – Bridging Time & Technique
2017-Restorative Luncheon: Seton Cove ~ Finding Health Through Movement presentation
2017 & 2016-liturgical dancer w/April Floyd for The Front Porch Easter Vigil Service
2012-2017 Nia Training Faculty ~ White Belt Trainer
2012-2015 Ageless Grace Educator
2005-2007 Member of BeingLived Performance Company
2005 Volunteer Nia Teacher, Community Women's Wellness Center – Austin, TX
2004-2009 Volunteer, The Crossings – Austin, TX
2002-2008 Volunteer, Big Brothers Big Sisters of Central Texas – Austin, TX
2002-2005 Co-Director, Heart Gigs (501c-3) – Austin, TX
1984-2004 Foleys Department Stores: Director of Control, Human Resource Manager, Operations Manager – Austin, TX / Corpus Christi, TX / College Station, TX / Albuquerque, NM
1980-1984 American Furniture: Assistant Buyer – Albuquerque, NM
1980-1984 Taught Children's Ballet Classes at Jacqueline's School of Dance – Albuquerque, NM
1980-Winter Season Performed with The Houston Ballet's touring company
1979-1980 Creator/President of EHS Dance Team – Albuquerque, NM
1970-1985 Performed and Choreographed for Albuquerque Children's Theatre and Mike Haley Dance Center Albuquerque, NM
1967-present Studied Classical Ballet, Tap, Jazz, Modern Dance, Acrobatics, Aerobics, Salsa, Country & Western, Nia Technique, Theatre of the Body, Body Mind Centering, Tai Chi