My Moving Story
"Dance Your Heart Out"  
Responding to the sensation I felt radiating from my heart, I stepped in…

In July 2000 a startling event dropped me into my body.  Unaware I'd been living life in my head, I noticed a big change in the way I paid attention to what was going on in and around me. Time slowed down, events, activities and conversations had expanded value. I had no idea what was going on, and so I called this new way of being in my world "the grief process".  I've since learned, that life lived "in the present" is full of sensations. When I choose to listen to their messages, these sensations will and have guided me towards health and healing. 
It was 2003 when I took my first Nia class as a way to relieve stress.  January 1st, 2005, at a workshop entitled Revitalize and Energize in 2005 a message from my youth resurfaced: Dance Your Heart Out. Responding to the sensation I felt radiating from my heart I stepped in acting on an urge to share Nia with others. I completed the Nia Technique Teacher Training-White Belt Intensive on March 2005 in Houston, TX.

Practicing Nia Technique principles in and out of class has changed me. Oh, I'm the same Julie you may have known before I discovered Nia, however today I'm mentally, physically, and emotionally more agile, stronger, certainly much more flexible, self-assured, more open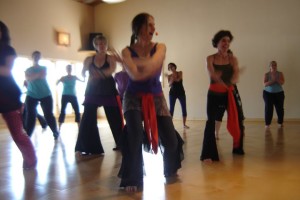 and sensitive…to tell the truth I know my list of "shifts" will go on and on as I continue to evolve as a woman, a student, a teacher, a healer, a wife, a lover, a friend, a leader, a daughter….
Today, curious and energized I enjoy a more spirited lifestyle pursuing a life long dream of sharing the "Joy of Movement" with others.
I'm inspired to show YOU the way to Pleasure and find as much satisfaction in watching Nia students grow and change as I do in introducing Nia to students for the first time!
Creative Accomplishments – Interests – Volunteer Endeavors – Hobbies
2016-present Stress Busters for Caregivers Coach & Master Trainer ~ 9 session evidence based course developed to assist caregivers of the chronically ill to manage associated stress
2013-present Tai Chi ~ Sun Style medicinal based Tai Chi forms suitable for all fitness levels.
2103-present A Matter of Balance Coach & Master Trainer ~ 16 hour evidence based course developed to assist older adults Manage Concerns About Falling
2011-present ToastMasters International ~ (CC-June 2012; CL-July 2013) Joining the local Division 55 Aim High Toastmasters club has been yet another step in my journey to gain comfort in leadership roles, speaking in public and thinking on my feet.
2009-present Volunteer Truth-Be-Told.org Facilitator ~ Truth Be Told is a 501(c)(3) non-profit organization providing transformational tools for women behind and beyond bars. Programs provide communication, community, creativity and care for self tools inspiring personal and spiritual growth for incarcerated women. The programs encourage a deeper sense of personal responsibility facing the truth of their past and embracing the hope of their future.
2003-present Evolving as a practitioner (and teacher) of Nia Technique
2012-2015 Ageless Grace Educator ~ A seated movement program promoting neuro-plasticity through play.
2012-2017 Nia Training Faculty – White Belt Trainer ~ February 2012 marks the beginning of a journey to master sharing Nia Technique comprehensive education component. The Nia White Belt Intensive is used for professional and personal growth.

2010-2012 Next Generation Nia Trainer in Training ~ September 2010 marks the beginning of a journey to master Nia Technique. Upon successful completion of the course requirements in July 2011 I'll be offering Nia White Belt Intensives for professional and personal growth. Stay tuned for more details.
2005-2007 Member of BeingLived Performance Company ~ Received 'Best of the Fest' 2006 Frontera Festival Austin, TX2003-2009 Big Sister through BBBS of Austin, TX ~ 2004 Big Sister of the Year – Austin, TX
2003-2007 Volunteer Big Brother Big Sister ~ One on one mentoring for at risk youth.
1980-1984 Taught Children's Ballet Classes at Jacqueline's School of Dance – Albuquerque, NM
1980-Winter Season Performed with The Houston Ballet's touring company
1979-1980 Creator/President of EHS Dance Team – Albuquerque, NM
1970-1985 Performed and Choreographed for Albuquerque Children's Theatre and Mike Haley Dance Center Albuquerque, NM
1967-present Studied Classical Ballet, Tap, Jazz, Modern Dance, Acrobatics, Aerobics, Salsa, Country & Western, Nia, Theatre of the Body
Interests and Hobbies: Public Speaking, Group Facilitation Experiences, Photography, sewing, cross stitching, scrap booking, swimming, music, singing, cooking, studying dance, healthy eating, viewing documentary films, attending theatre and dance performances, reading, traveling and spending quality time with family and friends.