Events
Next Beginners Nia Series    Maximum Martial Arts     Tuesdays May 30 – June 27
---
Nia Community Class & Fellowship Lunch    Maximum Martial Arts & Arpeggio Grill   Sunday, May 21st

Hands down, bare feet on the ground, it's a level of FUN best experienced! See you there.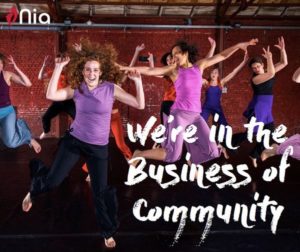 $15 or use your Maximum Martial Arts Nia class pass.
After dancing up a storm …. continue connecting to community following us down Ariport Blvd to Arpeggio Grill. www.arpeggiogrill.com/
Arpeggio will be serving up tasty food while we will stir up some delicious conversation!
---
Nature's Full Moon Mindful Movement – Nia Experience & Labyrinth Walk
Friday, June 9th 2017  7:30pm  (find us on FACEBOOK)
A body in motion creates a balanced ecosystem – physical, emotional, mental and spiritual.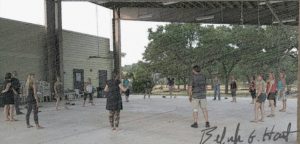 Join others in the Unity Oaks Pavilion, just prior to the Full Moon Labyrinth Walk, for a mindful movement experience based in the awareness practice of the Nia Technique, led by Nia instructor Julie Wylie.
Release distractions, reconnect to your body's natural wisdom, and receive that which is awaiting you.
Nia is a body-mind-spirit program incorporating cardiovascular fitness through kinesthetic dance/movement patterns. Nia blends Eastern and Western movements including Yoga, martial arts, dance, Tai Chi, and Aikido.
LOVE Donation
---
Explore Pelvic Floor Suspension : Your Foundation to a Strong Core
A healthy pelvic floor is crucial for men and women at all stages of life. Bringing tone and vitality to muscle and connective tissue this area is fundamental to overall core health. 

This workshop is appropriate to men and women.
In this workshop learn how:
-a strong pelvic floor helps relieve lower back pain and shoulder tension
-a supple pelvic floor improves balance
-to stimulate and activate deep muscles and tissue integral to suspension
-to apply "The Body's Way" knowledge to "Your Body's Way"
Call for info: (512) 791-6597    $30 advance registration link  ($40 at the door)
Gain these tools:
-5 developmental moves to feel better
-anatomy of the pelvic floor & core
-greater ease walking (gait training)
Experience:  Pilates Technique and Nia Technique movement to increase body knowledge.
Bring:           your curiosity, water, a yoga mat and hand towel.
Dress:          comfortably enough to move arms and legs.
ORGANIZER:
Julie Wylie www.julieannwylie.com Nia Training Faculty Member and 1st degree Nia Black Belt Teacher, Somatic Educator
Julie combines her passion for personal connection with holistic body knowledge to inspire clients, through pleasure & play, toward feel better right choices.
---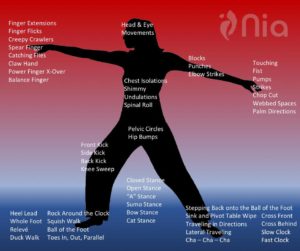 Austin, TX  Nia WHITE BELT Certification
7 day intensive with Julie Wylie & Kate Finlayson
August 18 – 24
---

Houston, TX  Nia WHITE BELT Certification
7 day intensive with Julie Wylie & Helen Terry
September 25 – October 1