Tai Chi
AUSTIN, TX – Jewish Community Center, Tuesdays & Fridays 9-10am
Registration is now open for our next session beginning July, 2018
Class size is limited to 25. Participants must pre-register: Annie (512) 735-8088
This program is offered through Senior Adult Services at the JCC and is open to everybody, no membership required. 
The program cost is $25 per month or $65 for 3 months. For more information or to sign up contact
Annie (512) 735-8088
Try Tai Chi – Motion as Medicine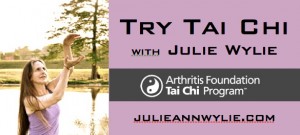 The Chinese have long understood the immense health benefits of Tai Chi, and it's popularity is steadily growing. Originating in ancient China, Tai Chi is a gentle exercise. The circular movements of Tai Chi are non-strenuous, soft and flowing. It is often described as "moving meditation" because it relieves stress and improves concentration. The slow turning motions loosen the joints and spine and relax points of tension in the body. Tai Chi trains the mind to direct the flow of internal energy Chi and breath Qi. The movements are preformed with silk-like energy that is continuous, flexible, soft and effortless. Slow, deep and gentle breathing regulates the forms tempo. Tai Chi can be an effective therapy to strengthen the digestive, circulatory, and skeletal systems.
Proven via scientific study to increase strength, flexibility, endurance and balance it also has many other advantages. Tai Chi in inexpensive and easy to learn, it exercises the entire body and is suitable for most anyone. "Recent studies have show that a Tai Chi program for persons with arthritis is safe and beneficial resulting in positive outcomes such as reduced pain, stiffness and fatigue and improved physical function, muscle strength, flexibility/mobility, and balance." sites the Arthritis Foundation Tai Chi Program manual listing a plentitude of published studies in their curriculum.
Tai Chi for Arthritis presents a Tai Chi video introduction by Dr. Lam
Sun Style Tai Chi is characterized by agile steps it contains powerful Qigong especially effective for health & relaxation.